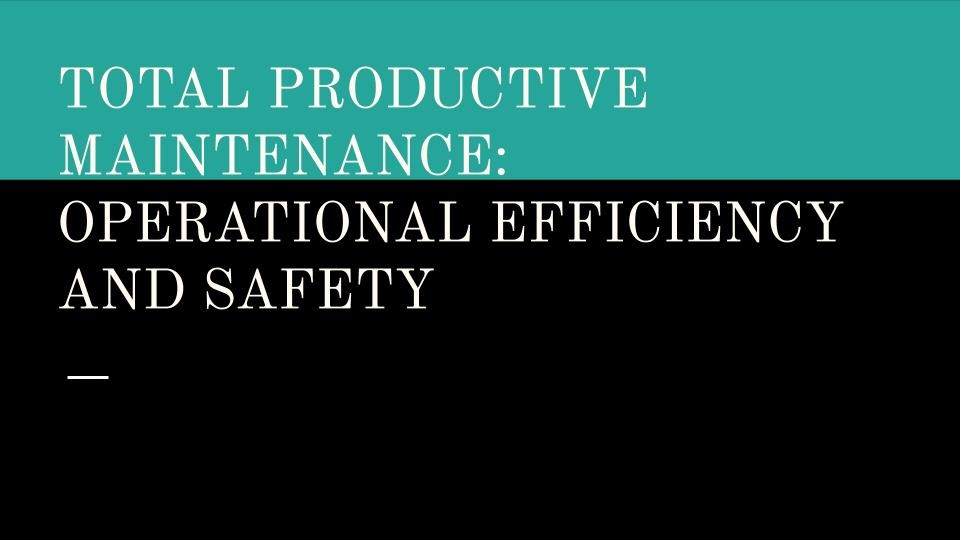 The industrial realm in 2020 still has room for improvement. All fields have yet to capitalize on the advent of things like Big Data and the Industrial Internet of Things. On a system level however, there's plenty of room for improvement utilizing tools such as Total Productive Maintenance. TPM as the tool is more popularly known, utilizes machinery, people and processes in order to ensure that the ultimate aim of a quality capable system is maintained.
In a year where businesses on a global scale have had to slow their operations due to a global pandemic, the cost of downtime can actually impact an organization. With costs of hundreds of thousands of dollars for even a few hours of limited production capacity, reduced capacity can run an organization into the millions of operations costs.
Industrial organizations thrive on their ability to operate at almost full capacity, and the machine dependence is one that requires careful attention to be paid to the means of operational livelihood.
 How does Total Productive Maintenance Work?
TPM as an operational system, ensures that the machine, people and processes are linked together, via means like Industry 4.0 based technologies, in order to ensure that the integrity of the operating system is sustained. With this system, the employees in a plant are able to be more involved in how they maintain their own equipment.
Gemba is a field based activity, and it will be important for the employees who work on the operational grounds to be able to listen to their equipment and determine how best they are operating at a particular point in time. During activities like housekeeping for instance, employees can take the time to actually clean their pumps, compressors and tanks, and via observation be able to know how they sound when they are operating normally.
The ultimate result of the bonding of man and machine will be:
Limited DownTime
Continuous Operations
Improved Quality
Improved Safety
Based on the advantage of the total productive maintenance activities in your industrial plant, the productivity boost will definitely help to improve the operational uptime. With more productivity between services, you'll be able to increase earnings and output. Preventative maintenance is one of the key benefits, as well as the improvement of the Overall Equipment Effectiveness.
Via TPM with the standardization of the maintenance activities, there will be a standardization with respect to how the employees are treating the operational equipment across the shifts. It is a team activity, that all can learn to embrace.
How Does TPM fuse with Industry 4.0?
TPM fuses with Industry 4.0 when it comes to the utilization of technology in the predictive maintenance efforts. Allowing organizations to transition from the reactive maintenance to the predictive maintenance frame of mind is one that many operational facilities are yet to accept. Industry 4.0 provides the TPM teams with the relevant operational data that will enable manufacturing teams to see into the operations of a machine while they are conducting their routine checks.
TPM OPERATIONAL CONCEPTS
TPM is a body of knowledge that an organization can utilize in their operations. With the tenets: Autonomous Maintenance, Focused Improvement, Planned Maintenance, Quality Maintenance, Early Equipment Management, Training and Education, Safety Health and Environment, TPM in Administration, organizations can decide how best to implement these into their operational flow.
With a more proactive and preventive approach, the plant operations are more readily managed. You can actually predict your maintenance activities knowing the operational capabilities of your equipment. Let us see how these work:
Autonomous maintenance: Operator training to ensure that routine maintenance can be done by the team. This includes filter changes, equipment lubrication, cleaning and inspection. They will learn their equipment through this methodology, and be able to identify any discrepancies in operations.
Focused improvement: This is based on the kaizen philosophy of continuous improvement. Process machinery improvement based on kaizen observations is key to operational improvement.
Planned maintenance: Utilizing Industry 4.0 based technology, data and metrics for equipment parameters can be established and monitored. At the appropriate points in an equipment's performance curve, the maintenance plans can be arranged.
Quality maintenance: Standardizing of the equipment maintenance activities to ensure quality equipment performance.
Early equipment management: Improving equipment design through understanding the operations of existing machinery.
Training and education: The more knowledgeable your employees are about your process equipment, is the smoother the equipment will run. When there is a discrepancy, their knowledge can save an operational process.
Safety, health and environment: A clean manufacturing environment will ensure that the employees are operating in a safe place.
TPM in administration: Elimination of hindrances to production via the improvement of procurement processes.
The utilization of all these tools will improve your organization's production capability. By knowing equipment performance, you can guarantee customer satisfaction because you will know what you can deliver to your customers.