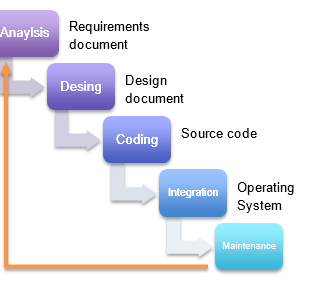 Requirements document
Analysis: User needs → specifications
Design: Decomposition into elements that can be developed separately → specifications of each element
Coding: Programming of each element separately (+ isolated tests)
Integration: The elements are put together and the complete system is tested
Maintenance: Occasional changes (errors or improvements).
Prototypes
Rapid prototypes
Just to gain experience
The code does not reject
They are used for the design analysis phases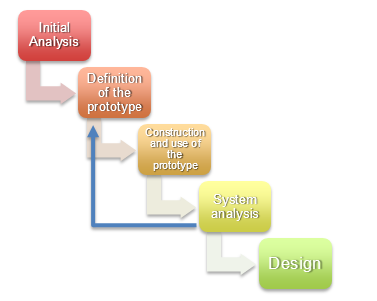 Evolutionary prototypes
The code is rejected
Cyclic process of cascade model
In each round the prototype is improved until reaching a complete system.
Software Specification
System model concept
The model specifies WHAT the system does without specifying HOW it does it
Different techniques can be used

Decomposition in subsystems
Modification of an existing model
Domain analysis → study environment, terminology, similar systems.
Requirements analysis
Objective → obtain the software specifications (build the model)
Phases

Study of the system in context: SW system is part of a complex system (SW + HW + mechanics + …..) → study of all other systems + study of the domain
Identification of needs: interaction with the client → real needs
Establishment of the system model

Hierarchical development → division into subsystems + development of each subsystem
Ends with a requirements specification document
Different possible notations for the specification
Natural language → for very simple systems or as a complement to others
Data flow diagrams (DFD) → model the processing of data in the system
State transition diagrams (DTE) → model system dynamics
Data dictionary → model the data
Software Design
Design
Tell how the system will do what it has to do.
Ends with an architectural design document and a detailed design document.
Phases
Architectural design

Structure and organization of the system.
Division into subsystems or modules + interfaces between them.

Detailed design → development of each module

New modules appear, others are grouped or disappear.
Define the structure of each module, with its data and associated services.
Design the algorithms for the development of each module → it is detailed in pseudocode without reaching a very detailed level (it would be almost coding).

Data design → design of the databases associated with the system (if necessary)
Structure diagrams
It is one of the many tools for design
Proposed by E. Yourdon as a tool for structured design
Describe the hierarchy of modules and sub-modules (architectural design)
The Yourdon module concept fits into what is a C function
Characteristics that a Module Must Fulfill
Coupling (it must be weak) → it is the interrelation that it has with other modules
(Very Strong) By content → access to local data and code (between modules).
(Strong) Common → data area common to several modules.
(Medium) Control → the modules are passed control signals.
(Weak) By reference → the modules are passed data by reference (eg: C struct).
(Very Weak) By value → passing data from one module to another (only the ones you need).
Cohesion (must be medium / high) → group related elements in a module
(Very Low) casual → no relationship (eg: I take a program of 1000 lines of code, I break it into blocks of 100 lines and I make a module with each block).
(Low) Logic → the module contains operations whose execution depends on a parameter (eg: a Calculation function (operation, data) that can make sums or products).
(Medium-Low) temporary → the module contains operations that are executed at the same time (eg: system initialization routines).
(Media) communication → the module performs different operations that run in "parallel" and that they all operate on the same data set.
(Medium-High) sequential → the module performs different operations that are carried out sequentially on the data, so that the output data of an operation is input data for the next.
(High) functional → the module performs only one function.
Comprehensibility → simple and understandable functioning (for those who have not designed it).
Adaptability (very difficult) → possibility to change it easily.
Design Document (In the case of modular design)
1. Introduction → overview of the document
1.1. objective
1.2. Ambit
1.3. Definitions, acronyms and abbreviations
1.4. References
2. Overview of the system → overview of the requirements + reference to the requirements specification document.
3. System context → connections with other systems.
3.n. Definition of external interface,
4. System design → description of the upper level of design (architectural design)
4.1. High-level design methodology → description of the methodology used
4.2. Decomposition of the system → system components (modules) and the relationship between them.
5. Design of the components → design of each module.
5.n.0. Identifier of the component.
5.n.1. Type → module.
5.n.2. Objective → justification of the need to exist.
5.n.3. Function → what does it do?
5.n.4. Subordinates → components (modules) what do you use.
5.n.5. Dependencies → components (modules) for which it is used.
5.n.6. Interfaces → rules of interaction with other elements (modules).
5.n.7. Resources.
5.n.8. References.
5.n.9. Process → algorithms (defined with pseudocode).
N 5.n.10. Data → internal data used by the component (module).
6. Feasibility and estimated resources → to carry out the system.
7. Matrix requirements / components.
Development Proposal for Small Systems
Specification (Analysis)
Very briefly say what the system does without saying how.
In natural language or structured natural language,
No software specification document → included in the design document
Design
Architectural design

Division into modules and the interfaces between them.
Reflected in a structure diagram.

Detailed design

Design of each of the modules.
Specified as pseudocode (best) or flowchart.
Is reflected in the design document.

Coding.
Tests.
Design document
Brief introduction and overview of the system.
Detailed development of system design and components.