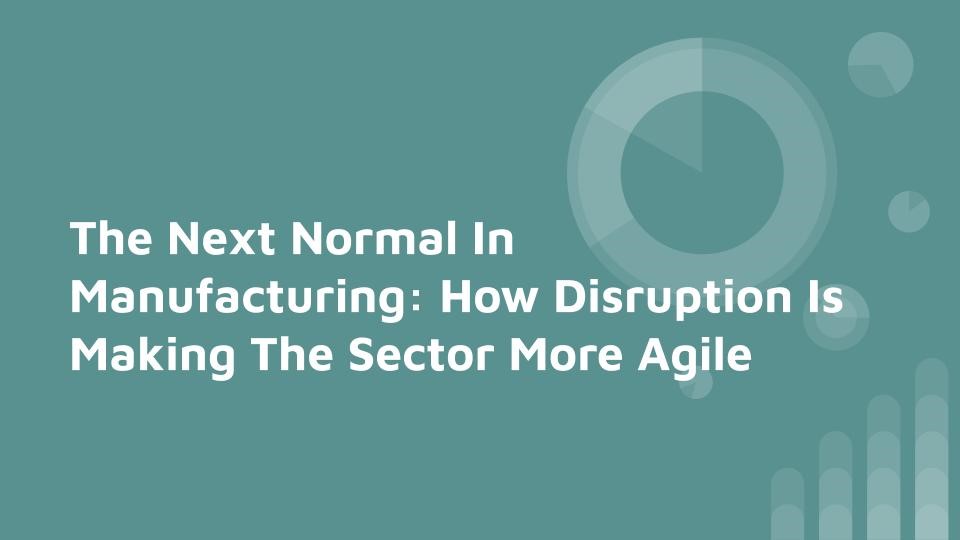 The way of the world is via change and growth. As industrial facilities become smarter and understand the weaknesses in their supply chains, and the impact of the external environment on their profits, it is very important for organizations to ensure that they are prepared for both future booms and also any downturns. With the current state of the global economy, there is still enough time for companies to visualize their futures, and build in strategies that are able to weather any storm that presents themselves to the company.
2020 is the year that we never anticipated, and with the onset and propagation of COVID-19, the supply-chain is now more fragile than ever. As government mandates have been released, relaxed, then released again, the global orders to stay at home, minimize travel both locally and internationally have affected the way that manufacturing organizations have had to operate. Social distancing, even at an operational work station is the order of the day. Of course, with all of this, there have been bottlenecks in the supplier -customer value chain. These shortages have affected all sectors of manufacturers, from food suppliers to even large scale electronic manufacturers.
COVID-19 is predicted to be one of these global events that will occur about once every four years now. While it is currently affecting us, as manufacturers, one of the key things to note is that it will not be the only such event. Global warming has caused the development of everything from forest fires to hurricanes, so organizations need to be able to ensure that they can survive during these times. With these onsets, the supply-chain risk management is an element that must be carefully paid attention to.
There are various global supply chain markets that must be thought about. By nature industries such as the electronics, automotive, and even aerospace markets are dependent on a global supply chain in order to supply their products. Some sectors have as many as 18,000 parts that are sourced from a variety of different suppliers. In the case of customers suppliers, there are differing supplier rankings of course, and it becomes a challenge even if one of the lower tier suppliers is affected. With all components being critical, even if one of your suppliers is unable to deliver, then the process will be halted to some extent.
Organizations have to learn to become independent, and those that cannot successfully navigate these complex economic times, and optimize their supply chains will be at risk. Increasing disruptions will have to be accounted for, to ensure that smooth operations are in place. Whether that means increasing inventory in some instances, it will be better to do this, than to have a half finished product.
One of the key functions of an Operations Manager, will be to study the production process and begin to forecast when the anticipated big shocks will occur. Via the ability to forecast these anticipated changes, various attributes of the events such as the impact, frequency and even timing of the event can be noted. It's always a good idea to be able to predict your future. In industry, one does not want to be surprised. It's better to just have a nice and even flow.
Disaster Preparedness
With the ability to predict disruptions, organizations can then develop the ability to be adequately prepared. The key to successful operations is to ensure that the operating model is one that is robust enough to weather the storms from two perspectives. According to a MckInsey study, if the entire value chain of an organization is considered, it will then be possible for an organization to prepare not only for both major and minor events, but to also be able to rethink their business models entirely. In some instances, there can be a shift from a product model to a service oriented model.
The organizations that have every intention of improving their resiliency have already made an effort to do this. Via taking the action to ensure that they have built in redundancy in their systems, such as dual sourcing and increasing inventory, the process of being more prepared is one that will hold the company over when there's a delay in shipment. Additionally, for those companies who had major suppliers located out of the country, they were able to improve their supply by shifting to having local suppliers of their parts. Some industries also chose to have their operations move back to their customer bases.
COVID-19 is just a wake up call to the entire world. With the need for action elevated in priority, up to 93% of all manufacturers were able to see  the need for improved resilience, and up to half of that figure thought it best to make the company more robust in terms of operations, than to make operational profits. The long term vision must always be preserved.
While there are multiple solutions to a problem, what often helps is the utilization of Industry 4.0 tools, which can then be able to utilize technologies such as predictive analytics, in order to achieve the desired resilience at the peak of productivity and flexibility.
The Value of ReThinking The Business Model
With changes, will be the need to be more agile as organizations. Companies will have to rethink their business models, if they don't fit into the current time. Some changes that can occur in the business world is to transition from business that are based on one-off sales, to a more continuous subscription based model.  In the industrial realm, the rental of facilities can also be considered as a possibility. With these ideas implemented, the ultimate result will be improvement in  the operations of a company , and ultimately create a continuous revenue stream, regardless of the external conditions.