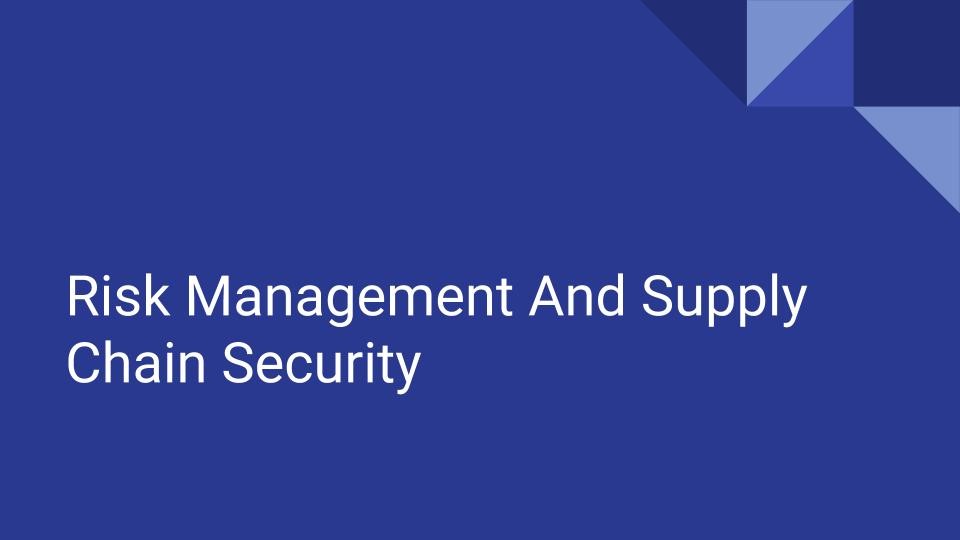 As all aspects of an organization's operations become increasingly more digital, it is important for an organization to ensure that embedded within its supply chain is a security consciousness. Organizations that do not include security into their operational strategies actually will be at risk of organizational cyber breaches. Many organizations in various sectors have experienced cyber breaches in one form, and industrial organizations are not exempt from such an experience. Supply chain security is a concept that involves the reduction of risk to an organization. Within the various realms of supply chain, these risks can include:
Terrorism: Organizational buildings may be at risk of terrorist attacks from competitors or even individuals who do not believe in their cause.
Piracy: Piracy is a concept that many attribute to movies and history books. Ships that are laden with goods, can actually be targeted by modern pirates. As logistics companies are navigating the seas, it is important for organizations to ensure that they have adequate security on all of their logistics channels.
The above scenarios can also take place within the online realm. With an adequate understanding of system processes, it will be possible for organizations to mitigate against such occurrences and protect their assets.
Physical Threats
Physical threats can be both internal and external. As a result, it is important for organizations to be aware of both aspects of the operations. Within an organization, there may be employees who are disgruntled by the organizational operations for instance. They may cause a breach in the company's operations. External threats by either land or sea pirates can also affect the stock. The key to prevention of such occurrences is via strategies such as:
Incorporating identification to employees and security checks
Utilizing tracing mechanisms for shipments that indicate exactly where the packages are along the supply chain.
Incorporating safety into the packaging with tamper proof seals
Hiring the right people via screening procedures
While physical threats may prevail, the internet is where the new set of threats to organizations actually exist. Cyber-threats actually cause potentially more damage than physical threats to property. While physical property can always be replaced, access to intellectual property is something that takes years to build and will be part of the company's legacy for years to come.
The internet, as the blessing that it is, has actually created new paths for potential cyberthreats. As a civilian, you may have heard that your retail organization's database of credit card information may have been hacked. In some organizational instances, computer hackers can actually impact an organizational supply chain. In some adverse instances, the malware can be incorporated into hardware brought onsite to be installed into company systems.
The prospects for breach are actually quite numerous across a chain. The solutions for these cases include:
Certifying all parties involved in your IT infrastructure. Where possible, only utilize an organization that is a partner of your company and utilize their systems only.
Only work with trusted vendors to reduce breaches
Identify how your data will be protected as the organization actually generates and stores it. Enquire about encryption of data.
Have your employees sign an NDA agreement. Understanding the legal implications of their work will ensure that they are upholding the highest standards of work and protecting your information.
With a solid understanding of the risks to the supply chain, both internally and externally, an organization can ensure that it stays safe. In the new manufacturing world, data and AI will rule. Wi-Fi and Edge Computing will be the order of the day. Technology is making industrial waves in ways that we never anticipated before. From advanced robotics, computer vision, to lights out manufacturing, technology is the wave of the industrial future.
Technology is definitely making an impact on every step of the industrial manufacturing process. Where we are headed as an industrial nation is the Lights Out Manufacturing era, where factories can operate autonomously and require no human presence. With all this beauty, there are aspects of our operations to strive to protect. Competitive advantage is a moving target that must be maintained, and technologies like lights out manufacturing are the way to go. Lurking eyes will always exist, especially on an organization that is doing well. Industrial organizations have to  take various steps to optimize their processes via the utilization of tools to protect themselves from cyber attacks.
There's a simultaneous progression, and vulnerability that comes with operating in a cyber world. Since we're all better off with the internet, it is in our best interest to utilize it for business growth. Protect what is good, with cybersecurity.